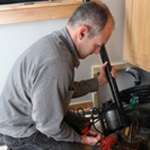 We can handle all your sewer and drain cleaning needs. We are there when you need us, ready to diagnose your drain problems and solve them. Our technicians are trained and experienced in using the latest technology to provide a level of service unmatched in the industry.
Our sewer repair service includes:
Live video cameras for locating sewer problems
Sewer line cleaning through the use of a jetter system
Root removal
Root treatment
Sewer line locator services
We are equipped with a sewer line camera, locator, and drain water Jetter system. We can inspect, locate, and remove debris from drain pipes and sewer lines. We also offer free water testing, and can test for hardness, iron, total dissolved solids and pH levels right in your home. Our lab can test for virtually any chemical or bacterial presence.
G.F. Bowman is prepared to handle all of your water conditioning and plumbing needs. We have the capability and resources to handle any concerns you may have about your water.