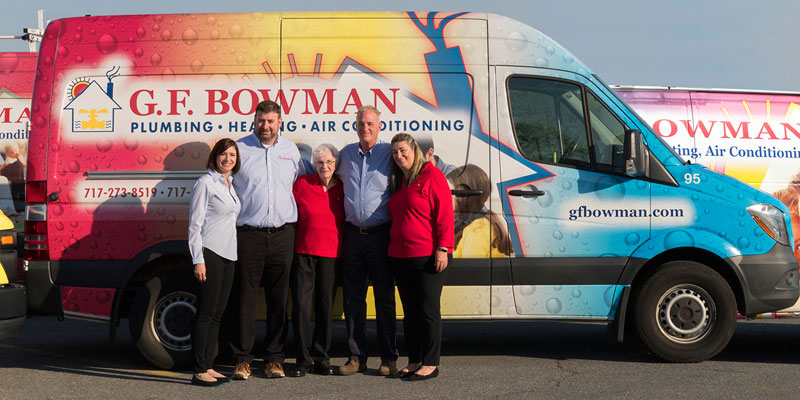 From left: Jamie Yocum, Brad Bowman, Esther Bowman, Larry Bowman, Brenda Bowman
G.F. Bowman, Inc. was founded by George and Esther Bowman in 1967. The business was located in the garage of their home on East Penn Avenue in Cleona, Pennsylvania. George started out as a refrigeration contractor with mom-and-pop grocery stores as his primary customers, and built the business on his highest priority-service.
Timeliness, doing the job right the first time, and fulfilling commitments helped George gain many loyal customers. In 1970, George hired his first employee, Joe Engle, who was with the company for 31 years. During the 1970s, heating and air conditioning services were added to the business. In 1972, the business was relocated to its present location at 201 West Penn Avenue, Cleona, and in 1976, a 6,000 square foot warehouse was added.
As the business grew, George's son, Larry, became an integral part of the company. In 1984, Larry took over as president of G.F. Bowman and continued to grow the business on the same principles that led to his father's success.
In 1986, plumbing services were added to the business. In 1988, the company was completely computerized and two-way radios were installed in all service vehicles. In 1990, an additional 11,000 square foot warehouse and office expansion took place.
In the 1990s, the introduction of indoor air quality testing, geothermal heating and cooling solutions, water testing, zoning controls, and other related services kept the company a leader in the mechanical contracting industry.
The new millennium focused on energy conservation and health preservation. This allowed G.F. Bowman to introduce water conditioning, softening, and filtration to its customers, as well as tankless water heaters.
G.F. Bowman opened a sales office in Harrisburg in 2006. While the company has served this market previously, it allowed G.F. Bowman to further serve the Hershey, Hummelstown, and Harrisburg areas. The company's service area spans south central Pennsylvania from the Harrisburg East Shore to Reading.
Larry's two eldest children took control of the business in 2010. Jamie Yocum serves as the company's president, while Brad Bowman serves as the company's vice president and sales manager. They continue to support the company's mission to provide world class plumbing, heating, and air conditioning service and installation for every customer.
More than 50 years later, the 45+ dedicated employees at G.F. Bowman, Inc. continue to train on the latest techniques in order to exceed customer expectations.